Andrew L. Urban
Man made carbon dioxide in the earth's atmosphere is responsible for catastrophic climate change, according to climate alarmists. We must stop 'polluting' the atmosphere with it.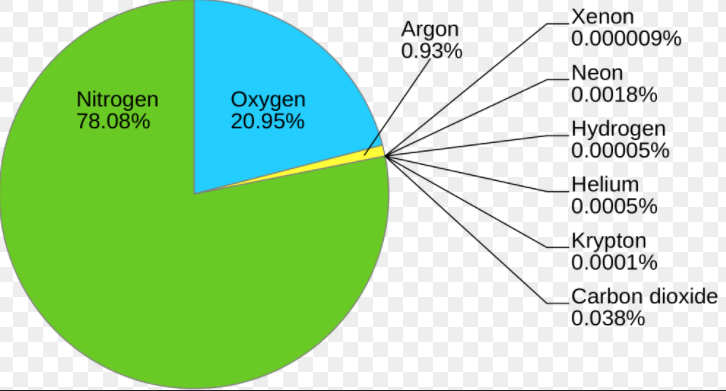 The accompanying pie chart vividly lays bare the hollow absurdity of the alarmism – and questions how such obvious fakery can take hold not only among activists but among supposedly responsible and (clearly not) well informed decision makers.
The chart shows (in starkly emphatic visual terms) how carbon dioxide makes up 0.038% of earth's atmosphere; of that 0.038%, some 3% is contributed by us burning fossil fuels like coal for our reliable, cost effective energy needs. It's too little to register on the chart.
Yet the No 1 Goal of the next climate gabfest is to get universal agreement to try and kill off all man made carbon dioxide emissions. This current orgy of climate change activism will climax at Glasgow's COP26 UN Climate Change conference, Oct 31 – Nov 12, 2021. Goal No 1: "Countries are being asked to come forward with ambitious 2030 emissions reductions targets that align with reaching net zero by the middle of the century.
To deliver on these stretching targets, countries will need to:
accelerate the phase-out of coal
curtail deforestation
speed up the switch to electric vehicles
encourage investment in renewables.
Goal No 2 is to 'protect and restore ecosystems' and 'build defences, warning systems and resilient infrastructure and agriculture to avoid loss of homes, livelihoods and even lives'. That seems vague enough … easy to adopt en masse.
Then we get to the money, at Goal No 3: 'To deliver on our first two goals, developed countries must make good on their promise to mobilise at least US$100bn in climate finance per year by 2020.'  That year is no doubt a typo? Does it matter? Just hear the money sloshing around … some (a lot) will be 'spilt'.
To get the full blast of the scope of COP26, visit the official website of COP26 (https://ukcop26.org/ ). You'll learn that Sir David Attenborough is named COP26 People's Advocate (eat your heart out Prince Charles); the Scottish Event Campus (SEC) in the heart of Glasgow features five interconnected exhibition and meeting spaces; the SEC Armadillo, a 3,000 seat auditorium and the SSE Hydro, 14,300 capacity concert/special events arena. They'll be filled by delegates at taxpayers' expense. Nice junket with a guilt-free topic.
You'll also learn about an array of related events, like Youth4Climate, where '400 of the world's most talented youth climate leaders are heading to Milan this September' ahead of COP26.
You'll be pleased/sickened to also learn that it doesn't end when it ends; there's more. In November, 'innovators can apply to 6 challenges focusing around core climate issues and government priorities' to take part in #TechForOurPlanet for #CleanTech startups ….
But you won't learn on that website why or how all this #GloballyDisruptive ClimateHysteria has managed to thrive based on the unfounded belief that man made carbon dioxide (see chart) is causing warming that is an existential threat to the planet. Maybe it's the amazing power of #faith ….