By Andrew L. Urban.
An Iowa, US, hair salon received major social media backlash this week after posting a photo of Ivanka Trump when she visited the store to get her hair styled before an event, reports Katherine Lam for Fox News. Hundreds of followers lambasted the business for styling the White House adviser and threatened to never return. Some people said the photo was "f—ing gross" and vowed to unfollow the page.
"I agree with previous posters…this is NOTHING to be proud of," one woman wrote. "You will never get my business based on this one post," a woman wrote, garnering dozens of "thumbs up" and "heart" reactions from users.
But my favourite reaction was this: "Will never book an appointment at this salon again. Total bum out. This salon employs hetero/non-hetero individuals and this just truly sucks. The fact that Salon Spa W was inclusive was always a big A + to me. You put your money where your mouth is as your vote. I loved this salon. I'm so, so disappointed and I can't imagine how your non-cisgender employees/clients feel. Fail. Won't ever be back."
Always inclusive, yes, that IS a big A +. As the salon tweeted: "we do see it as part of our mission to welcome people to Des Moines and serve everyone…" Well, this'll teach you to be inclusive.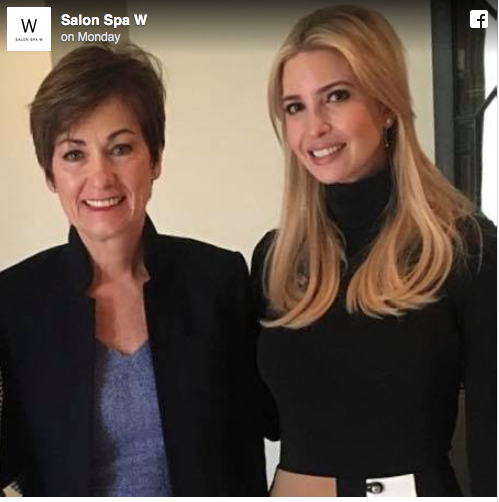 Ivanka was in town to tour Waukee school district's Aspiring Professional Experience program (APEX), and was photographed with Iowa Gov. Kim Reynolds (R). Truly despicable, ain't it.