Andrew L. Urban.
The scariest story of this election campaign was published in The Australian on June 13, 2019: The Queensland ports contract worker who tripped up Bill Shorten on Labor's tax plan for high-income earners has been suspended and forced to find another job.
The 49-year-old experienced electrical engineer was told he was in breach of contract for speaking to the media after he was filmed questioning the Opposition Leader as he campaigned at the ­Queensland government-owned Gladstone Ports on April 23, The Courier-Mail newspaper reports.
The next day the worker's pass did not work and last week his desk was packed up and its contents ­delivered to his house.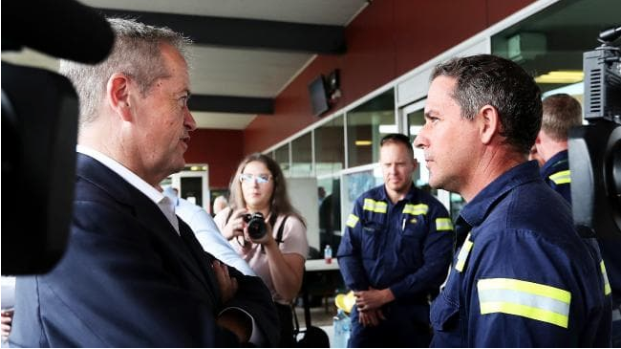 The father of three (above, right – pic Kym Smith), who earned about $250,000 last financial year, had forgotten his lunch the day of Mr Shorten's visit and became caught up in the media scrum ­during a free barbecue.
"It would be good to see higher-wage earners given a tax break,'' the engineer told the Labor leader.
The implications of this story – especially given that no political leader has denounced the actions of Gladstone Ports (Queensland government owned and all) – are that Australia is sliding silently our of democracy into a limbo of narrow minded, fear-driven socio-political wasteland. The company acted without prompting from Labor. It self-censored the worker, either because of its own political leaning – which was ruffled by the man making Shorten look bad – or by the chilling effect of political thuggery from the left.
Those of us who have had any real life experience living under undemocratic regimes will instantly recognise and recoil from this example of power without mandate. This is a direct extension of corporate virtue signalling that was so evident during the same sex marriage debate. It wears down the proper separation of business activity and socio-political activity. And it's extremely dangerous.