Andrew L. Urban
In his riveting but deeply disturbing new book, The Permanent Coup: How Enemies Foreign and Domestic Targeted the American President (Center Street Hachette) investigative journalist and author Lee Smith reveals everything you didn't know, couldn't know but must know about the methods used to undermine, preferably destroy, Donald Trump, by an army of scheming operatives ranging from Deep State lowlife to the political puppet master, former president Barack Obama. That's the Obama who, unlike all other departing Presidents, chose to stay in Washington, the better to guide his 'army'.
Chapter 12 is titled Obama's Coup, and I'll share just a couple of excerpts with you:
"If the issue really was systemic racism, as the scores of protestors and their advocates in the press claimed, then the problem was the system itself. Logically, the system would have to be collapsed. But the people to whom the system belonged had no intention of breaking it. It belonged to the Democratic Party, which is why they had been able to weaponize it against Trump and his supporters. The press, the intelligence services, all that belonged to the Democratic party, even Black Lives Matter was theirs. Obama had cultivated BLM support during his presidency.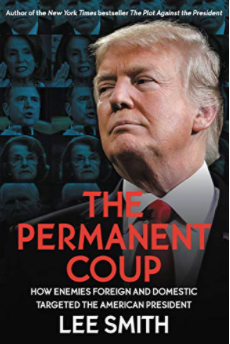 "Five police officers were killed in Dallas during a July 2016 BLM protest against police violence. They had been killed by a black sniper who told the police he was targeting white officers. The president spoke at their funeral. "We have all seen this bigotry in our lives at some point," said Obama. "None of us is entirely innocent. No institution is entirely immune. And that includes our police departments. We know this." The day after the funeral, Obama hosted BLM officials at the White House."
A little earlier in the same chapter, Lee wrote: "Obama had purposefully interfered with the peaceful transition of power. His former DNI confirmed it. "If it weren't for President Obama," said James Clapper, "we might not have done the intelligence community assessment that we did that set off a whole sequence of events which are still unfolding today, notably, special counsel Mueller's investigation." The sequence helps explain why no Democrats ever called out Russiagate for the absurd lie that it was."
Oh, but there is so much more…
Lee's sources are remarkable and his extensive research is woven into the text – a thriller about villains and their methods no fiction book could ever attempt. And then there is Barack Obama…